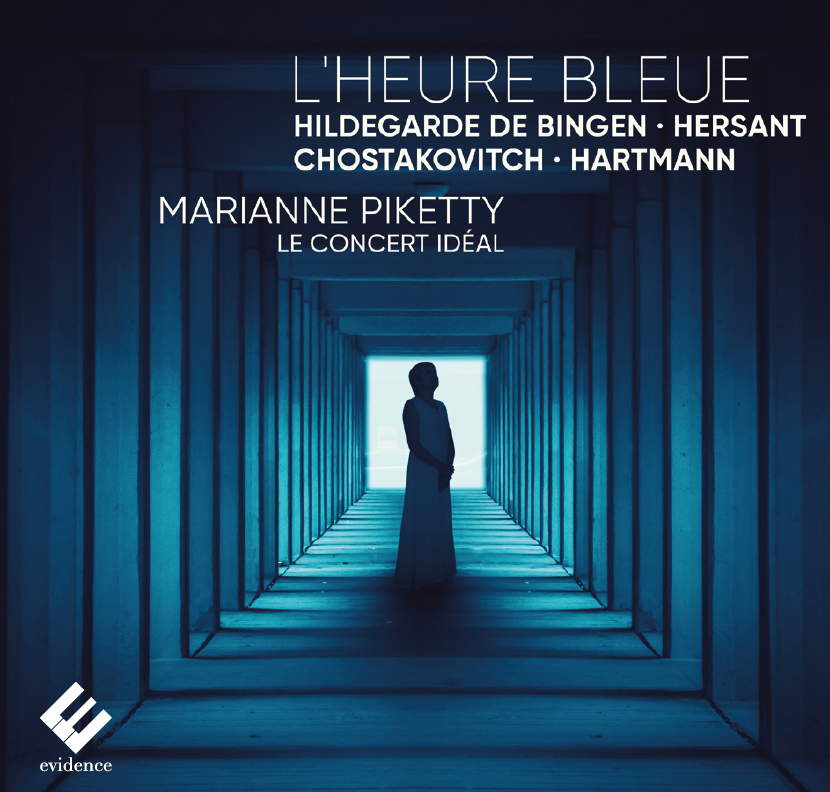 L'heure bleue' is this fleeting moment between the end of the night and the dawn, this moment of silence, uncertainty and promise where the suspended life is locked up or transformed …
This project was born out of Marianne Piketty's desire to link the luminous work of Hildegarde de Bingen to the Funeral Concerto by Karl Amadeus Hartmann.
The German composer, fiercely opposed to Nazism, chose internal exile in 1933, refusing to take part in any cultural life but wishing to testify. Each of his works are denunciations and calls to resistance. His concerto, written in 1939 and dedicated to his four-year-old son, is a real cry against human blindness but also a work that aims to bring hope and a deep faith in the future of humanity.
This music, with dark aspects, is brought into resonance with the heavenly music of Hildegarde de Bingen. At the same time abbess, composer, doctor and writer, she was known to have been inspired from childhood by many divine visions. The three Visions chosen are three founding pillars which guide towards the light.
In order to question the 21st century, we placed an order with Philippe Hersant who wrote A Vision of Hildegarde, which is like a link between these two worlds – mystical vision and hell vision.
The two pieces for string octet by Shostakovitch complete this program, echoing the quotes from the concerto. Shostakovich was only eighteen years old when he composed these two movements which were dedicated to the poet friend Volodia Kurtchavov, who died prematurely. In these pieces, all the visceral force that strikes in Shostakovich's work is unleashed and never leaves the listener indifferent.
Beyond a succession of works which could exist by their only eloquence, force and beauty, it is a question of plunging in a sensorial and intellectual experience which recalls that it is neither the places nor the times which determine our passions.
Press
Le Monde – 30 April 2020
Inspired by powerful strings (Le Concert Idéal) and by a violinist gifted for wandering (Marianne Piketty), the composer, born in 1948, delivers here one of his most accomplished works, between luminous tribute and self-portrait disorder. This last shortcut also applies to an eighteen-year-old Shostakovich who, in his Two Pieces for Octet, sees postmodernism half a century in advance. Composed in the fall of 1939, Karl Amadeus Hartmann's Funeral Concerto begins and ends in desolation with, however, a central episode of intense reaction to pain. Soloist with spider activity (weaving and stitching), Marianne Piketty is irresistible.
ComposHer, Marie Humbert – 22 May 2020
A rich and inspired record, which invites you to look deep into yourself.
ConcertoNet – 5 May 2020
Marianne Piketty and her ensemble Le Concert Idéal, manage to create unity over the centuries.
GangFlow, Anne-Sandrine di Girolamo – 4 June 2020
L'Heure bleue is rich. An invitation to discover works whose discourse is at the heart of a reflection around the vital. A precious moment of intellectual and musical elevation.
dates à venir / coming soon