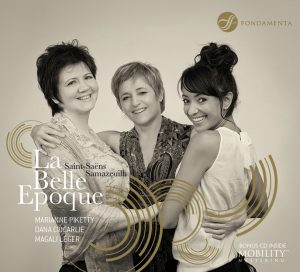 Marianne Piketty, violin ; Dana Ciocarlie, piano & Magali Léger, soprane
La Belle Époque presents under the sign of Marcel Proust, the first Sonata for violin and piano by Saint-Saëns is one of the models of the Vinteuil Sonata.
It also highlights Gustave Samazeuilh, pianist, composer and musicologist (1877-1967), with three important aspects of his work: piano music, chamber music and melodies. The mosaic of works presented paints a picture full of charm, brilliance and poetry around works, most of which are still too little recorded on disc.
Saint-Saëns, Samazeuilh
Fondamenta, en partenariat avec le Palazzetto Bru Zane
Press
Classica – May 2016

Marianne Piketty gives the sonata in D minor by Saint-Saëns a very personal reading, based on a magnificently sensual sound, of a rather romantic character, eliminating any risk of babbling superficiality.