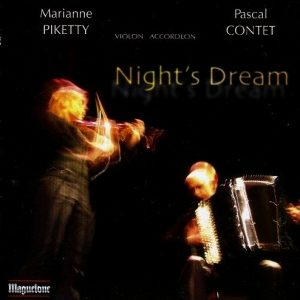 Marianne Piketty, violin & Pascal Contet, accordion
Works for violin and accordion
Astor Piazzola: Night Club 1960
Graciane Finzi: Impression Tango
Ernest Bloch: Vigui, Nigun
Laurent Mettraux: Émergences
Bernard Cavanna: Les Disparus
Joëlle Léandre: Blue Butterfly
Bela Bartok: Six Danses roumaines
Maguelone / Collection French soloists
Press
Arte.tv, Mathias Heizmann – 21 April 2009

When a virtuoso violinist meets an eclectic accordionist, it gives an original disc, one of a kind

Marianne Piketty is a violinist, Pascal Contet accordionist.

Together, they clear, transcribe or order. Fascinated by the superimposition of the sounds of their respective instruments, authors join them, write new pieces. Thus a directory is formed.

Night's Dream is not a tango record, even if fans of the genre would find their little ones there: if one can hear Piazzola or Finzi there, Ernest Bloch also rubs shoulders with Bernard Cavanna or Laurent Mettraux, two contemporary composers. It is also not a simple variation around the figures of dance, nor even a plunge into a universe of nostalgia even if one can without too much problem evoke these two figures.

In reality, this disc is a kind of journey. Better still: a musical « road movie » that achieves coherence by the very nature of his project. No matter the stylistic differences when you move to music. For those who, with their faces glued to the glass, let themselves be carried by the regular rhythm of the train, the landscape may well change: what matters then is the movement and the alteration of the forms, and the awkward words that the 'we will write later on his diary.

Leaving Argentinian tangos to arrive at Bartok's Romanian Dances can seem like a loop. The bastringue in the outskirts of Buenos Aires, where you get slick in the evening, is no doubt worth the popular rhythms of the Hungarian countryside. But what matters here is what happens when you walk away, when the Finzi rhythms – surprisingly rail – lead us into the unknown. But it is precisely this shift, this loss of bearings, that makes sense here. It is no doubt no coincidence that at the heart of the project is a poem by Erich Fried whose words precisely evoke this other country, country of silence and aphasia, of loss of meaning.

Leaving Argentina to land in Hungary is perhaps simply a bridge between two singularly palpable worlds. Between the two, Marianne Piketty and Pascal Contet will have made us travel and above all dream. It has become so rare today that we do not know how to thank them.