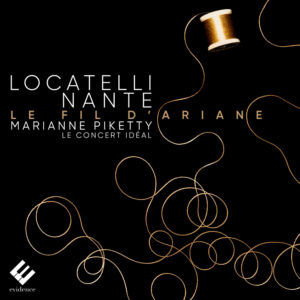 Marianne Piketty & Le Concert Idéal
Pietro Antonio Locatelli & Alex Nante
Evidence Classics
Press
Le Monde, Pierre Gervasoni – 17 May 2019

It is not uncommon to see today's composers rubbing shoulders with the music of their distant elders with mirrored creations believed to establish a dialogue spanning the centuries. More exceptional is the process which consists in weaving an organic link (from a note, a gesture, an agreement) between the reference works and those which they inspired. This is what happens in this fascinating journey created by Marianne Piketty between Pietro Antonio Locatelli and Alex Nante […] Beginning or extension of the scores of the virtuoso of yesteryear (mainly concertos grossos), each page of our young contemporary is a masterpiece of sensitive diffraction, as intelligently written as deeply felt […]. At the head of her ensemble, the aptly named Concert Idéal, Marianne Piketty artfully unrolls the ball of violin threads in a labyrinth from which, like us, she does not seem to want to leave.
Res Musica, Michèle Tosi – 18 May 2019


Le Fil d'Ariane is an adventure as risky as it is well led by Marianne Piketty […] The fluidity with which the performers unfold this Breadcrumb is astounding, with eminently baroque respect for the principle of contrast between relatively short pieces. […] It is the solo violin, supported by his partners, who assumes the role of Arianna, in « recitatives and tunes » in which only the words are missing.
Classique HD, Nicolas Roberge – May 2019

Like a beacon in the night, Le Fil d'Ariane is intertwined in these very beautiful concertos.
It is played with such passion and fervor that one hangs on to the thread that Alex Nante unrolls so as not to get lost in this labyrinth of tones. Le Concert Idéal brings us even more spirituality by playing in tune with the ambiance given by Marianne Piketty. The violinist revives Locatelli with her nimble fingers; his technique is flawless and it is a delight to listen to the prowess of these musicians and get lost with them.
Froggy's Delight, Jérôme Gillet – Mai 2019


Aux atmosphères nocturnes, poétiques et spirituelles d'Alex Nante répondent la brillance fantasque, les envolées entre Corelli et Vivaldi, des œuvres de Locatelli. Mais c'est bien, même si les esthétiques sont différentes, une même intensité, une même expression et profondeur, une même dramaturgie, de réelles correspondances, un même souffle qui parcourent et s'entremêlent comme une façon de boucler la boucle dans ce disque.
Grey Panthers, Ferruccio Nuzzo  – 3 June 2019


Un disco memorabile
Vosges Matin, Valérie Petitdemange – 17 April 2019


Enivrant & déroutant
« Apprendre lance l'errance »
Michel Serres
Locatelli is generally presented as one of the most worthy representatives of these Italian baroque violinists / composers who played, bulging eyes, foam on the lip, crazy wig, nervous contortion and sound foot, timbres and acrobatics of the most spectacular . The audience howled, killed each other, the trance invaded the place, we defended ourselves. The fabulous vibrations of these virtuosi were even capable of causing small birds to pass out. "A pleasure too painful" according to some. Locatelli stared for a long time, with an "intensely theatrical look", onlookers before starting to play, he dressed "sumptuously with shiny rings" and as soon as he put the bow on the string it was "like a devil ", he ran" like a hare on his violin ", with a" rough "sound which brutalized" delicate ears ", but ended, with" extraordinary agility ", breaking them to the expressive power of its "wild flights".
Locatelli's figure cannot, however, be limited to this cliché of the fair phenomenon. From Rome to Venice, via Mantua, from his German tours to the city Amsterdam (where he will live more than 30 years before dying there), Locatelli evolves in the heart of the cultural broth which gradually leads the Europe of tastes different to "united tastes" or "gemischter Styl". It is also funny that this "wandering" musician, a true Italian ambassador in exile, ends his famous Arte del violino with a "Laberinto Armonico" ("Harmonic Labyrinth") or his op.7 with a concerto entitled Il Pianto d ' Arianna (Le Pleur d'Arianne), describing the tears of this Princess abandoned by Theseus whom she had just saved, by offering her a long thread, from the labyrinth of Minos.
Locatelli's music is based on a surprising juxtaposition of Corelli's dialectic clarity with the virtuoso exuberance of Vivaldi, his two masters, and is sometimes tinged with a certain "French" outfit, then more and more fashionable in European courts. If Locatelli, in good Italian, knows how to fire any wood, he is nevertheless far from being satisfied with his skill: he does not stop exploring, does not hesitate to get lost in the most improbable tones, the least structures symmetrical, or twisting your fingers far beyond bourgeois pleasure. A « disjointed » style that often disconcerts but which brings up completely new questions.
It was this idea of ​​variety and wandering, of loss of benchmark, that motivated this project. The program presents different islands of Locatelli's music, between which the composer Alex Nante takes care of drifting. An Arianne thread which seeks to show how much difference there is no problem in coexisting, and how much their confrontations, however paradoxical it may be, are always a driving force towards emancipation.
Olivier Fourés