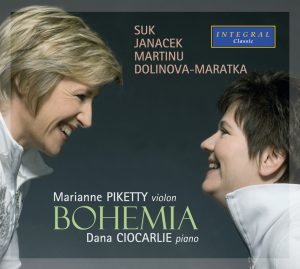 Marianne Piketty, violin & Dana Ciocarlie, piano
Works by Suk, Janáček, Martinů, Dolinova-Maratka
Suk: Four pieces Op.17 / Janáček: Sonate – Dumka / Martinů: Sonate#3 H.303 / Dolinova-Maratka: Czardas III
Continuo Classics
Press
Strad Magazine Tully Potter – February 2011

A successful recital of Czech Violin Music
The French violinist Marianne Piketty and the Romanian pianist Dana Ciocarlie interpret a carefully chosen Bohemian and Moravian programme impressively.
Piketty takes a Romantic approach to Suk's near-sonata, with sensitive phrasing and much well-managed portamento. Both players are very accurate and take tempo changes in their stride. The Burleska has good bouncy rhythm.
Janacek's Sonata receives one of its best non-Czech performances.
Piketty is wistful in the Ballada, rhythmically precise in the Allegretto and tonally resourceful in the Adagio.
Martinu's great Third Sonata is a triumph.
Le Monde, Pierre Gervasoni – 21-22 November 2010

The "Bohemian", in the double sense of geographic landmark and aesthetic trend, is here celebrated in all tones by an outstanding duo. Marianne Piketty's violin has a Paganmi tip at the end of the bow and gypsy genes in the hollow of the strings. On the piano of Dana Ciocarlie, trestles in the right lighting, unfolds the irresistible spectacle of the Czech soul in the XX 'century, from the elegance of Josef Suk (Four pieces Op.17) to the flame of Leos Janacek (Sonata) then from the eclecticism of Bohuslav Martinu (Sonaten #3) to the fantasy of Krystof Maratka (Czardas III, after Milena Dolinova).
Cadences, Michel Le Naour – November 2010

This record smells of Central Europe. Familiar with repertoires off the beaten track, the two performers combine their talent for a journey that takes us into a contrasting universe where poetry competes with melancholy and generosity with commitment. The violinist's tone perfectly matches the pianist's expressive timbre. Milena Dolinova's Czardas III, inspired by popular tunes and reinvented by composer Krystof Maratka into imaginary folklore, constitutes a veritable fireworks display of rhythms and colors.
French Week, Roger Steptoe – 22 October 2010

Admirable… A disc to treasure
Radio Notre-Dame – October 2010

It's a beautiful musical journey in "Bohemia" that the virtuoso violin of Marianne Piketty and the piano of Dana Ciocarlie offer us. We are dazzled by the enthusiasm, the warmth and the expressive force of this recital which allows us to better reach the secrets of the Czech soul. A moment of happiness…
La Voix de la Haute Marne, Michel Thénard – September 2010

An astonishing complicity of interpretation
Two virtuosos of music, Marianne Piketty for the violin and Dana Ciocarlie for the piano, give us a reheard for some – or to discover absolutely for others – their Bohemia. The complicity of the look on the CD cover reflects that of these two instrumentalists in their playing, a game particularly removed. With ardor and density, the two women transport us to Bohemia in the heart of popular inspiration with moments of enchantment alternating with times of heartbreak.
Bohemia offers an astonishing repertoire made up of a mixture of Slavic, Gypsy, Hungarian and Jewish music … Seeing them play fascinates, hearing them is a joy.