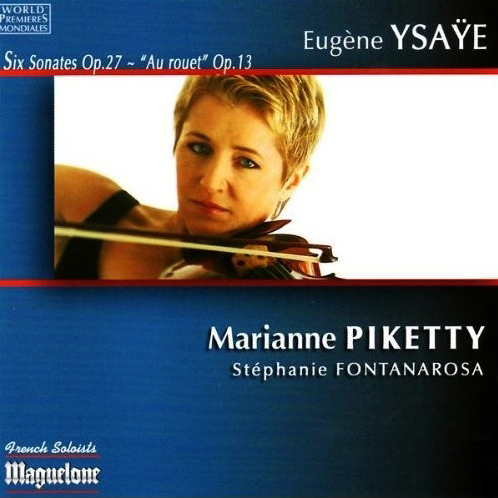 Marianne Piketty, violin
Eugène Ysaÿe : Six Sonates for violin only opus 27, Au Rouet for violin and piano opus 13
Maguelone / Collection French soloists
Press
Classica
A good flexibility of phrasing and a great equality of timbre whatever the register.
Radio Notre-Dame – 4 February 2006

The young French violinist Marianne Piketty gives us an almost visionary print of these difficult sonatas by Eugène Ysaÿe. The ardor, the power, the impetus of his bow and the generosity of his personality well translate all the expressive force of these sonatas, a kind of fireworks of the « last of our romantics » …
ResMusica, Bernard Halter – 28 January 2006
The formal richness of this impressive collection should not frighten the young violinist Marianne Piketty. His intense play and his determination hit the bull's eye. His assurance and his supplied, radiant sound particularly suit this music which, under its multiple allusive adornments, remains nonetheless a corpus for violin of romantic tradition, which can therefore summon a sustained lyricism in margin of requirements formidable techniques. The performer's instrument sings without ever betraying any rudeness. The flexible articulation does not deprive the proposed readings of a real anchoring but projects this music in a vitamin and generous breath.
Strad Magazine, Julian Haylock
Marianne Piketty's teachers have included Itzhak Perlman and Dorothy Delay and it shows. Not only is she rock-solid both technically and intonationally, but she also produces the most winning, golden-toned legato which forms the bedrock of these absorbing interpretations. Where others tend towards applying lashing of vertical pressure in these inscrutable scores, Piketty cushions any potential percussiveness, ensuring that the music retains a cantabile allure at all times.
The one-movement Third Sonata is particularly challenging. Piketty creates the impression of the music having been composed in a single creative sweep, her glowing expressivo ensuring that even the most potentially awkward terrain sounds tonally beguiling. It's a stunning performance that makes Michael Rabin's high-octane EMI recording sound hard-driven and inflexible by comparison.
Piketty's account of the sixth sonata, with its wrist-cripping sequences of spiccato, 3rds and 10ths à la Paganini, turns this infamous technique-fest into a poetic outpouring, before a sublime rendering of the Franckian Au Rouet – with pianist Stéphanie Fontanarosa and glowingly recorded – rounds out an outstanding disc.