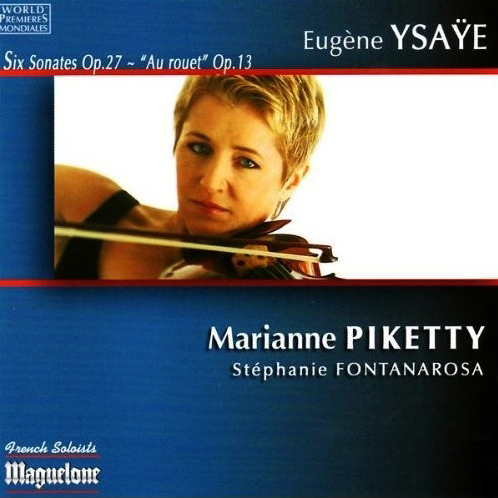 Marianne Piketty, violon
Eugène Ysaÿe : Six Sonates pour violon seul opus 27, Au Rouet pour violon et piano opus 13
Maguelone / Collection French soloists
la presse en parle
Classica

Une belle souplesse des phrasés et une grande égalité de timbre quel que soit le registre.
Radio Notre-Dame – 4 février 2006

La jeune violoniste française Marianne Piketty nous livre une gravure quasi visionnaire de ces difficiles sonates d'Eugène Ysaÿe. La fougue, la puissance, l'élan de son archet et la générosité de sa personnalité traduisent bien toute la force expressive de ces sonates, sorte de feu d'artifice du « dernier de nos romantiques »…
ResMusica, Bernard Halter – 28 janvier 2006

La richesse formelle de cet impressionnant recueil n'a pas lieu d'effrayer la jeune violoniste Marianne Piketty. Son jeu nourri et sa détermination font mouche. Son assurance et sa sonorité fournie, radieuse, sied tout particulièrement à cette musique qui, sous ses parures allusives multiples, n'en demeure pas moins un corpus pour violon de tradition romantique, qui peut par conséquent convoquer un lyrisme soutenu en marge d'exigences techniques redoutables. L'instrument de l'interprète chante sans jamais trahir quelque rudoiement que ce soit. L'articulation souple ne prive pas les lectures proposées d'un réel ancrage mais projette cette musique dans un souffle vitaminé et généreux.
Strad Magazine, Julian Haylock

Marianne Piketty's teachers have included Itzhak Perlman and Dorothy Delay and it shows. Not only is she rock-solid both technically and intonationally, but she also produces the most winning, golden-toned legato which forms the bedrock of these absorbing interpretations. Where others tend towards applying lashing of vertical pressure in these inscrutable scores, Piketty cushions any potential percussiveness, ensuring that the music retains a cantabile allure at all times.
The one-movement Third Sonata is particularly challenging. Piketty creates the impression of the music having been composed in a single creative sweep, her glowing expressivo ensuring that even the most potentially awkward terrain sounds tonally beguiling. It's a stunning performance that makes Michael Rabin's high-octane EMI recording sound hard-driven and inflexible by comparison.
Piketty's account of the sixth sonata, with its wrist-cripping sequences of spiccato, 3rds and 10ths à la Paganini, turns this infamous technique-fest into a poetic outpouring, before a sublime rendering of the Franckian Au Rouet – with pianist Stéphanie Fontanarosa and glowingly recorded – rounds out an outstanding disc.